The Vein Health Center at The CORE Institute
The Vein Health Center is a specialty clinic, at our North Phoenix location, Sun City West location, and our Gilbert location for the treatment of medical vein conditions, including chronic venous insufficiency (CVI) and the associated symptoms such as varicose veins, ulcerations, achy legs, restless legs and swollen legs.
The visible signs of CVI, such as bulging varicose veins and skin discoloration, have often been misconceived as a "cosmetic-only" issue. However, vein insufficiency often leads to substantial medical complications, which can significantly affect our daily lives. Untreated CVI may progress, worsening the symptoms over time, leading to hard-to-treat ulcers and infections. Fortunately, being proactive in diagnosing and treatment can slow or stop the progression.
What is Chronic Venous Insufficiency (CVI)?
Chronic Venous Insufficiency (CVI) is a vascular condition in the legs. The veins begin to fail, blood flow is reversed, and pooling occurs in the lower legs. This condition makes it difficult for blood to get from the legs to the heart, resulting in uncomfortable symptoms such as:
Leg pain, aching, or cramping
Burning or itching of the skin
Varicose veins
Leg or ankle swelling, especially at end of day
"Heavy" feeling in legs
Skin Discoloration or texture changes
Open wounds or sores
Restless legs
Bruising
Affecting thirty million Americans, CVI is two times more prevalent than Coronary Heart Disease.
Some factors may put you at a greater risk, including:
Female gender
Age (30+)
Family history
Sedentary lifestyle
Prolonged standing
Obesity or excess weight
Current or previous pregnancies
Smoking
BMI over 30
Diagnosis / Patient Screening
To properly diagnose CVI, your provider will need to perform a complete medical history and physical exam. Part of the physical examination will include an ultrasound. The sound waves from the ultrasound bounce off the vein creating images of the vein structure, visualizing any potential vein damage or blockage. The patient is tested both standing and laying on their back, allowing the provider to determine blood flow, find any dangerous blood clots and make a complete diagnosis.
Doing a Self-Assessment at Home
If you suspect you have CVI, you might want to conduct a self-assessment at home. Looking for the below mentioned symptoms is a good start. However, to properly diagnose CVI, you should schedule a consultation with a medical professional.
Leg pain, aching, or cramping
Burning or itching of the skin
Varicose veins
Leg or ankle swelling, especially at end of day
"Heavy" feeling in legs
Skin discoloration or texture changes
Open wounds or sores
Restless legs
Bruising
 Treatment
As is with most diseases, preventative measures in combination with lifestyle changes can have a significant impact. Some measures to consider:
Manage blood pressure and body weight
Exercise regularly, focusing on leg exercise that works the legs (i.e. run or walk)
Elevate legs whenever possible
Avoid prolonged standing or sitting
Avoid clothes that are tight around the waist, thighs or legs
Avoid hot tubs, saunas or long baths
Strengthen calf muscles and avoid shoes that limit use of calf muscles (i.e. high heels)
Eat a diet low in salt and rich in high-fiber foods
Wear compression socks (Ask the Vein Health Center for a recommendation)
While being proactive about your condition is essential, these measures are most effective in the early stages. In cases where the disease has progressed beyond the earlier stages, minimally invasive procedures might be the next step.
Minimally Invasive Treatment Options
Endovenous thermal ablation is a minimally invasive treatment that involves the shutting of diseased veins. Closing off the diseased veins will redirect the flow of blood into healthy veins back to the heart as intended. The treated veins will then shrink and be absorbed by the body over time. Two types of thermal energy may be used:
Radiofrequency Ablation (ClosureFast™)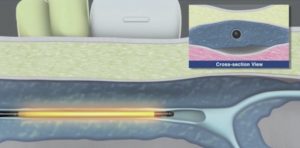 Radiofrequency ablation (RFA) is a minimally invasive procedure used to treat patients with varicose veins and chronic venous insufficiency (CVI). The ClosureFast™ catheter is inserted into the diseased vein while radiofrequency energy is emitted to provide uniformly distributed heat to contract the collagen in the vein walls. This process causes the vein to collapse and seal off, allowing blood to flow into healthy veins.
VenaSeal™ Closure system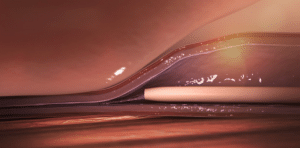 VenaSeal™ closure system is a minimally invasive procedure that delivers immediate and lasting vein closure with its proprietary medical adhesive formula. Ultrasound technology is used during the procedure for visuals on the diseased vein. Once located, the VenaSeal™ closure system is inserted into the vein, where the physician will then use the adhesive to close the diseased veins, allowing blood to flow into healthy veins. Following treatment, compression socks are not necessary. However, they may be beneficial to some.
Patient Eligibility Criteria
There is a mandatory 3-month trial of conservative therapy. The components of conservative therapy include, but are not limited to:  exercise, periodic leg elevation, weight loss, compressive therapy, and avoidance of prolonged immobility per insurance guidelines.
If you are experiencing any of the following symptoms you may be eligible:
Leg pain, aching, or cramping
Burning or itching of the skin
Varicose veins
Leg or ankle swelling, especially at end of day
"Heavy" feeling in legs
Skin Discoloration or texture changes
Open wounds or sores
Restless legs
Bruising
What to Expect from Minimally Invasive Treatment?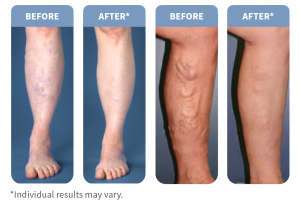 There is usually little to no downtime associated with treatment. Treatments are typically completed in one hour, and most people return to normal activities within a few days. Hospitalization is not part of the standard treatment. It is recommended to walk daily for 30 minutes for the following two weeks after the treatment. Compression stockings should be worn at all times during the first two days and while walking for the first week. Possible bruising and swelling may occur after treatment.
No strenuous exercises for 72 hours post treatment
No heavy lifting (>10lbs) for 1 week
No swimming for 1 week
There are associated risks, possible complications and side effects that come with every medical procedure. The following are risks and side effects associated with CVI treatments and procedures. Speak with your physician about the risks and benefits of these procedures.
Vessel perforation
Thrombosis
Inflamed veins
Infection
Nerve damage
Bruising
Skin burn
Swelling
Skin discoloration or redness
Discomfort
SUBSCRIBE TO CORE INK NEWSLETTER
Sign up to receive stories and information from The CORE Institute, including expertise from our providers and news about the latest technology advancements helping our communities.