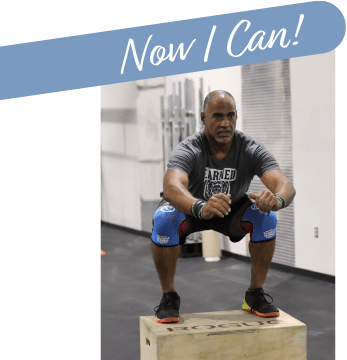 "I couldn't run.  I couldn't do just about anything that was related to CrossFit which is a real passion of mine.  I couldn't do most of those movements without severe pain."
In his younger years, Tony Atwater struggled with his weight which took a toll on his knees.  As he got older, he found CrossFit and it helped him lose weight and stay motivated.  Unfortunately, pain in his knees kept him from training himself and others.  Tony decided to seek the expertise of the team at The CORE Institute.  "It was a no-brainer," Atwater said. "I went to The CORE Institute. The doctors there are amazing."
It was discovered that Tony had torn the meniscus in his left knee.  In the weeks leading up to surgery, he also tore the meniscus in his right knee.  Following separate surgeries to repair meniscus tears in both knees, as well as to remove bone spurs from his right knee, Atwater is back in the gym.
"I'm starting to feel like an athlete again. Life is good."
At The CORE Institute in Arizona and Michigan, our goal is to help you Keep Life In Motion.  Our expert team of orthopedic, spine and neurology specialists use the latest research and technology to help you get back to doing what you love.  If you are dealing with pain, contact us today to learn about your treatment options.